Rapid Adoption of Blockchain Could Transform Emerging Economies into Financial Juggernauts – A Perspective
Author – Vijay Kumar, Founder of DigitalFort Technologies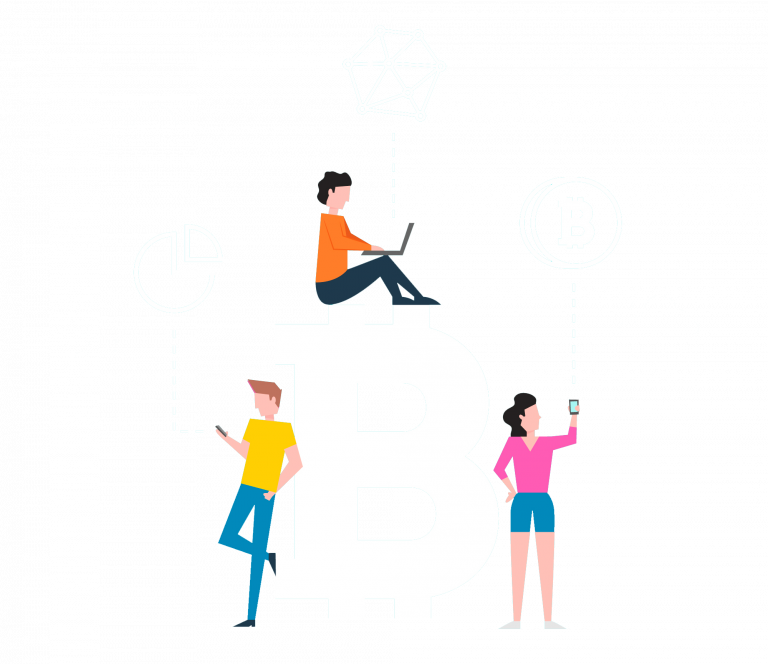 SHARE
[sharethis-inline-buttons]
A blockchain disruption is awaiting to unfold. While blockchain's adoption would enforce transparency, security, regulatory compliance, robustness, non-repudiation, high availability, auditability & governance, its application would curtail Non-Performing Asset (NPA), impending frauds and political interference. Banking & Financial Services Industries (BFSI) would never be the same again with blockchain's approach to inclusivity and quality, reducing operational overheads, commissions/fees while increasing profitability and earnings per share (EPS), eventually winning shareholders' loyalties. In summary, blockchain could significantly add value through disintermediation; however, its adoption timeline could be longer.
Are Investment Banks Jittery About Blockchain?
Unlike any other industry, which gets affected by the recession, top US banks, except Lehman Brothers, have always remained amongst the top despite multiple recessions impacting everybody else. The reason is simple – banks have primarily made money in capital markets by being sole intermediaries – something no one else has a license to. For instance: the top 10 investment banks alone charge nearly USD100 billion in annual fee income (Indian data is not entirely available: Link).
Source: Financial Times League Table
Once Blockchain becomes mainstream, many revenues generating activities of investment banks will be performed by others – curtailing their hegemonies & steady revenue streams.
Blockchain Key Use Cases For BFSI
Source: Capgemini
Smaller firms & startups realize that funding through ICO (Initial Coin Offering) improves their profitability, given extra ordinary fees (7-10%) of these banks. Given its potential, blockchain will get adopted with time. 
Could Blockchain Be the Next Gamechanger?
Most likely 'a Yes'. Let us take a hypothetical example of a mid-size bank in an emerging economy (say Axis Bank in India). Axis Bank reported a basic EPS (earning per share) of INR 1.13 in FY 17-18. Had it implemented Blockchain for a mere KYC (Know Your Customers), it would have given its shareholders an EPS ranging from INR 5.82 to INR 20.95 (415% to 1754% return) despite a spike in its NPA – this could have made it a favorite at Dalal Street (India's Wall Street).
KYC on Blockchain (Axis Bank Case Study – hypothetical illustration)
Axis Bank acquired Freecharge in 2017. The acquisition brought 5.4 crore Freecharge customers to the existing 2 crore customer base. Assuming 50% of Freecharge customers (i.e. 2.7 crores) & Axis Bank customers (i.e. 1 crore) needed KYC, Axis Bank must have had to do KYC for total of 3.7 crore customers. Let us examine the cost-benefit analysis of doing KYC on Blockchain. Average KYC cost (without Aadhar) to the bank is INR 1000 (Source) while KYC cost on Blockchain is less than US$ 5 (Source) & as per RBI (Central Bank), KYC is mandatory every 2 years for highly risky/leveraged customers in current economic/job scenario.
The questions are: if you were an Axis Bank shareholder, would you not be convinced that the bank needed to press 'KYC on Blockchain' competitive lever to attain such cost arbitrage amidst its rising NPA concerns? Second: if you were an entrepreneur, wouldn't you once consider 'KYC on blockchain as a Service' potentially enticing? Most importantly, if 15 such Indian banks implement Blockchain, would it not easily create ample wealth to astronomically shoot GDP, disposable income, consumption levels and India's growth rate?
The Puppets (PSU Banks CEOs) & The Genesis of India's NPA
The onset of telephone banking in India began much before it did in the developed world & PSU Bank CEOs were mere puppets as the NPA game unfolded.
For the first 60 years post-independence (1947 to 2008), India's public-sector (PSU) banks disbursed loans worth INR 18,000 lakh crores. Surprisingly, in just the next 6 years (2008 – 2014), they disbursed loans worth INR 52,000 lakh crores (almost 3 times of what had been sanctioned in 60 years was sanctioned in mere 6 years) – mostly at someone's behest, mostly over mere phone calls (i.e. 'telephone banking') & mostly without much due diligence.
(Source: Honorable PM Mr. Narendra Modi's speech rejecting No Confidence Motion against his Govt. at the Indian Parliament – July 20, 2018)
Why did this figure rise so astronomically in just 6 years?
Many of the initial loans had remained unpaid over the years & when time came to repay those loans, new loans were merely sanctioned just to close the earlier ones.
Source: The Economic Times
By budging to political pressures, these CEOs destroyed India's financial prowess & their banks got grappled with daunting NPAs challenges. As most of these leaders are nearing their retirement age, they leave behind them legacies that they themselves would never be proud of.
Would Merging State-Run Banks (Vijaya Bank, Dena Bank & Bank of Baroda) Help?
This might not sound plausible. Both Dena Bank & Vijaya Bank don't have a global presence – something Bank of Baroda complements with operations across 24 countries. However, would this merger curb the current NPA mess, the onslaught of potential Nirav Modis (i.e. frauds) and the never-ending political duress?
The question is: 'Is there a way out?'
Can technology sturdily address these challenges while letting PSU banks CEOs craft legacies that they dearly would wish to? 
Addressing NPA, Frauds, Inefficiencies & Political Interferences the Blockchain Way: Case Study — Punjab National Bank (PNB)
How Blockchain Could Have Averted India's NPA, PNB Scam & Political Interference?
Once the blockchain smart contract is properly defined, it wouldn't let anyone sanction loan to the defaulter, to customer with poor KYC/CIBIL score, or to customer who hasn't undergone adequate due diligence, whatever be the political pressure.
Letters of Understanding (LOU) details long with payment made against each LOU would have got propagated in real-time to all stakeholders (branch, head office & overseas associates).
Given SWIFT messaging wasn't integrated with the core banking system (CBS), smart contracts or hyperledger would have flagged this.
Scamsters couldn't have repeatedly tampered regulatory compliance records (e.g. KYC) and gone unnoticed.
All transactions would have been transparent — something none would have been able to modify without consensus from others on PNB blockchain.
In summary, Blockchain could help combat fraud, NPA, inefficiencies & undue political duress.
Demystifying Blockchain
Source: bitsonblocks.net
A blockchain is analogous to a book. Each page, in a book, is like a block and is connected sequentially to the other by a number. Whenever a page gets tampered or torn, it gets easily identified. The same analogy holds, for blocks, in a Blockchain. Like legal contracts bring enforcement in the real world, Ethereum smart contract or hyperledger bring instantaneous facilitation, execution and enforcement of a negotiation/agreement in a blockchain.
Why Blockchain Suits BFSI?
Because of its inherent advantages (trustless/disintermediation, confidentiality, robustness, high availability & verifiability/auditability), blockchain has immense applications in BFSI.
Killer Applications
I. Trade Finance (Supply Chain)
90% of goods in global trade are carried by ocean shipping industry. As per Maersk, a shipment from East Africa to Europe goes through 200 different interactions/communications amongst network of shippers, freight forwarders, ocean carriers, ports and customs authorities. Blockchain has potential to vastly reduce the cost and complexity of trading by establishing transparency among parties and by reducing frauds, errors, transit times, inventory mis-management, wastage and cost while streamlining prompt vendor settlements.
II. International Fund Transfer (Payment)
Conventional overseas fund transfer is not helpful in a dire medical emergencies. If one wants to transfer funds overseas, he/she ends up paying substantial commission albeit the money reaches after 3 working days.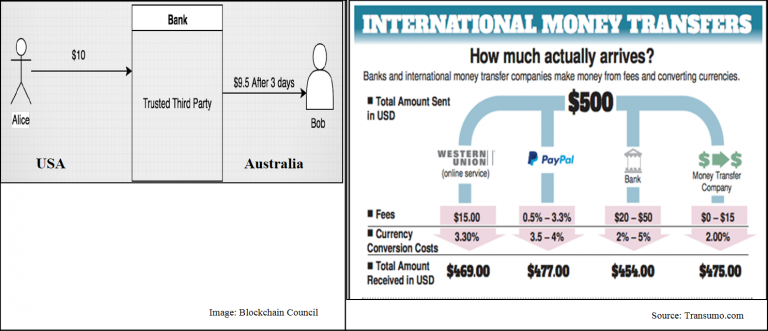 International Fund Transfer using Blockchain

Companies outside India leverage Blockchain to provide such a value proposition for cross border cross-currency transfer (E.g. Circlepay).
III. Crowdfunding Through Initial Coin Officering (ICO)
Because of its inclusive approach & potential to generate immense wealth, ICOs have recently become increasingly popular.
IV. Know Your Customers (KYC)
10% of the world's top financial institutions annually spend $100+ million on KYC. Because of Personal Data Protection Act (PDPA), companies such as JP Morgan have paid 16 Billion Euro for not adhering to local regulations. Besides, because of the shortage of skilled professionals, senior people are pulled from other revenue-generating activities to KYC. Lastly, due to taxing KYC procedures, customer friction has increased, increasing onboarding time by 22% (2016) & 18% (2017). A centralized KYC blockchain platform would be a game-changer, improving client satisfaction, decreasing redundancies, easing administrative effort besides increasing companies' profitability.
Conclusion
Blockchain is going to be transformational. It could help combat fraud, NPA, inefficiencies & undue political duress. During medical emergencies, needing instantaneous overseas fund transfer, Blockchain would evolve as our only reliable savior. Frauds would get curtailed, overheads would get reduced and profitability would increase, thereby increasing savings potential for individuals and companies and enriching our lives. As per Forrester's study, investment in Blockchain across 6 diverse companies for 5 years would result in a significant return on investment: ranging from minimal 43% to a maximum of 590%.

Author: Vijay Kumar is the Founder of DigitalFort Technologies.
SHARE
[sharethis-inline-buttons]
RECENT POSTS